Cancun Airport Information.
About Cancun International Airport (CUN)
Cancun International Airport is located in the southeast of Mexico, in Quintana Roo. It is considered the second busiest airport in Mexico after Mexico City Airport. The IATA code for Cancun Airport is: CUN, and its ICAO code is MMUN.
Cancun International Airport (CUN) has two runways used simultaneously. It also has 4 terminals and an FBO.
Cancun Airport operates domestic and international flights to virtually any Mexico, United States, and Canada destination. In addition, you can also find flights to destinations in South America and Europe.
Cancun International Airport (CUN) - Information Sheet
IATA Code
CUN
ICAO Code
MMUN
Phone
+52 (998) 848 7200
Airport Address
Carr. Cancun - Chetumal Km. 22 Cancún, Quintana Roo México
Longitude
86° 52' 37"
Latitude
21° 2' 12"
World Area Code
148
GMT
-06:00 Hrs
Inauguration
1974
Operating Hours
24/7
Cancun Airport Services
---
Official Cancun Airport - Frequent Asked Questions
What can I bring to Cancun?
To Cancun, you can bring bottled food, as long as they are sealed, medicines (if controlled, they must be accompanied by a prescription), clothes, and valuables.
You need to know that the customs department will inspect all your luggage. At the end of the inspection, you will have your belongings back, and you will be able to bring them to Cancun. If you do not pass the customs inspection examination. In that case, you will have to remain at the airport until the investigation and inspection procedure are completed. This procedure will be the same for entering and leaving the country.
If you decide to take your valuables with you, you must register them as your belongings before boarding. To avoid inconveniences, we recommend carrying these belongings in your carry-on luggage.
Consult the Mexican consulate directory for more information.
We refrain from providing any information on procedures at the Cancun Airport.
Official Cancun Airport Terminals - Information
Cancun International Airport has 4 active terminals. All of them offer domestic and international flights. More information below.
Terminal 1
Terminal 1 of the Cancun International Airport has 7gates, which receive charter airline flights. The main airlines operating at the airport are Magnicharters and VivaAerobus. Find more information below.
Terminal 2
Terminal 2 of the Cancun International Airport has 22 gates. This terminal operates mainly domestic and international flights from South America, Europe, Central, and other countries. On the way to the lounges, you will find ATMs, small restaurants, convenience stores, drugstores, souvenir stores, clothing, and more.
Terminal 3
Terminal 3 of the Cancun International Airport has 21 gates. Recently expanded, this terminal mainly operates international flights between Cancun, the United States, Canada, and Europe. On the way to the departure lounges, you will find duty-free stores, small restaurants, convenience stores, souvenirs, and more. In this terminal, you will find a business lounge called MERA.
Terminal 4
Terminal 4 of Cancun International Airport has 12 gates. This terminal is the most recent since its inauguration in 2017, making Cancun the first airport with four terminals in Mexico. This terminal operates international and domestic flights. Also, Terminal 4 has an impressive capacity for up to 9 million passengers annually. The main airlines operating in this terminal are Aeromexico, Interjet, Southwest Airlines, Lufthansa, Air France, Air Transat, WestJet, Condor, Air Europa, Sun Country, and Frontier Airlines.
Do I need a tourist card to travel to Cancun?
Yes, a tourist card is mandatory if you wish to visit Mexico. It consists of an immigration form that will complete your information, your reason for traveling to Mexico, and the time you will stay in the country. Tourist Card is an individual document, meaning you must present it at the time of your trip to the corresponding immigration authorities regardless of age.
Do I need a visa to visit Cancun?
No, only a passport stamped by your country is valid and in good condition, with no alterations or overwriting.
Is Cancun an international airport?
Yes, Cancun Airport is an international airport regulated by international laws.
How early should I get to Cancun Airport before my flight?
Most agencies ask passengers to arrive at least 2 hours advance for domestic flights and 3 to 4 hours for international flights. Ask your airline for more information
Recent posts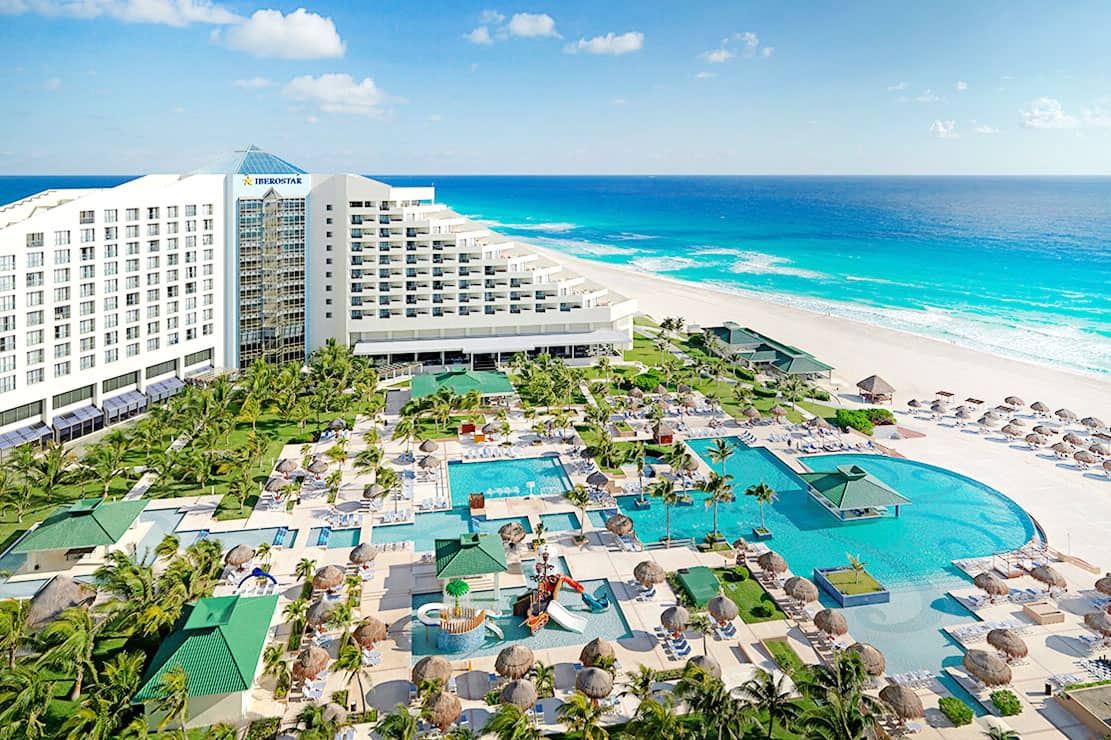 Cancun Airport Transportation to Iberostar Selection Cancun Hotel
Welcome to the beautiful and paradisiacal destination, Cancun, Mexico! If you plan to enjoy your stay in Cancun, at Iberostar Selection and would like to know the best transportation option from Cancun Airport, look no further. This post is the one.

Manuel M.
2023-11-21
VIEW MORE